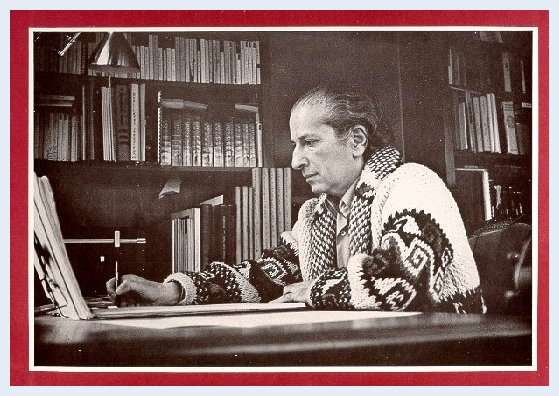 Firstly, check out that boffo sweater. Just brilliant, and a sign that there's goofiness afoot. Elie Siegmeister may not be a household name today but he was a fine composer and good friend of Copland & Co., best known for his
"American" Sonata
for piano. In the early 60's Siegmeister's daughter Mimi was going to be married, and he wrote her a whimsical wedding march, which was later published in 1962 to presumedly poor sales. I must assume the sales were poor as this piece has been out of print most likely since its release, and a measly two or three university libraries in the whole country have copies. It's a situation in dire need of correction, mostly because otherwise the world would miss out on the greatest classical sheet music/New Yorker
crossover ever.
For those without eagle eyes, it's possible to see the signature of famous New Yorker
cartoonist
Edward Koren at the bottom left (albeit cut off at the knees by the photocopier I used), but with a cartoon like this I wouldn't blame people for not taking their eyes off the main subject. Koren, now the new husband of Mimi and son-in-law of Elie, took that "whimsical" spirit of the march and pinned all the donkey tails he could find on it, because seriously, what are those creatures?! They clearly hail from a universe far more entertaining than ours, and the pianist's reaction is a sign that the critters came for a party. Ed no doubt did the cover out of generosity for his new father-in-law, and as wedding season is rolling up I've decided to be generous as well and put up the whole piece, as anything this fun should never be this rare.
There's a funny story behind that pp
at the end. The only recording of this piece was made by the composer-pianist Leonard Lehrman along with some dozen other pieces by composer in the Long Island Composers Forum*.
Lehrman was a student of Siegmeister's at the tender age of 11, and Siegmeister played it for him before it was formally performed. In the original version it ended at ff
, and Lehrman complained that you can't end a wedding march with a Crash! Bang! After the piece was published, Lehrman
saw the cartoon by Koren and decided that ff
was much better suited to the Carnival of the Animals in front of the thing. He recorded it with all Crash! Bangs! intact, and you can hear the whole story here as he performs it for some students. If his rendition seems a little fudged, keep in mind that Siegmeister may have been a little too generous with how many notes a hand can play at once.
Maybe he wanted one of Koren's interdimensional fauna to give it a try.
*PSST! I should warn you that a number of pieces, including the
Festive March
, are pitched up a whole step on the CD. I've seen this done before, where the performer records it slower and pitches it up as to get a faster tempo, and unless you have the score (or perfect pitch) it can remain a dirty little secret. Fortunately he plays it in the right key on YouTube.